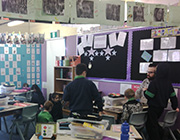 Literacy
Literacy learning in Tidbinbilla incorporates reading, writing, spelling and speaking and listening.
Early in the year, Tidbinbilla students follow a Guided Reading program. They are introduced to Cooperative Reading during the year. Students are explicitly taught the four Cooperative Reading roles and given opportunities to practise these roles in whole class, small group, partner and individual activities. The four roles of Cooperative Reading are Code Breaker, Discussion Manager, Illustrator and Investigator.
Tidbinbilla uses the BEE spelling program. Students work in groups across the unit and are explicitly taught sound and letter patterns.
Numeracy
Focus areas include:
Multiplication & Division
Addition & Subtraction
Geometry
Measurement
Students work in groups across the unit, targeted at their individual needs. There is also a focus on solving real-world mathematical problems. Students learn strategies to help them read, interpret and solve word problems efficiently.
Integrated Studies
Each term, students investigate a unit of work that incorporates other areas of the national curriculum, such as science, history, geography and the arts.
Physical Education
Students participate in structured fundamental movement skill sessions. These skills are incorporated in modified games. Students also participate in Bluearth sessions.
Library
Classes visit the library on a weekly basis.
Homework
Students should engage in daily reading at home. Each student's homework is to practise their individual learning intentions.